Working for yourself can get lonely, especially if you work from home and have little contact with your co-workers or partners. However, renting an office can be a bit too expensive.
These are just a couple of reasons co-working spaces have become so popular. But creating the right look in a co-working space can be difficult, especially if you have little room or funding.  
Download Zenbooth's Detailed Product Catalogs
This article will discuss six co-working space furniture ideas that help owners & entrepreneurs create the right office environment for their needs.
We'll also discuss ideas that can help co-working space members increase productivity and encourage more communication between their team.
The open office concept may encourage more social interaction, but sometimes people need to work without distractions or excessive noise. This is where noise-isolated phone booths provided by Zenbooth can help.
Each booth comes with 2 USB ports and a power outlet. A quiet, motion activated fan keeps the air fresh. These booths are much higher quality than typical competitors, as they're made from maple wood, have special soundproofing material in their insulation and are portable. 
Privacy Desk Panels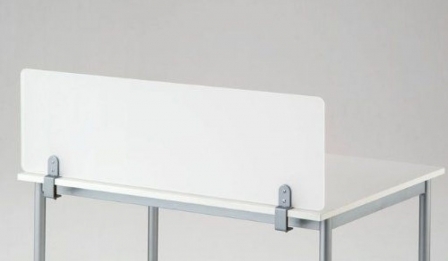 Keep confidential or sensitive projects secure, and eliminate distractions from your field of vision with Zenbooth's privacy desk panel.
This sleek item is very durable, made in the U.S. and easy to move around. It's also made from 95% recycled material. The item ships factory direct and will arrive at your co-working space in 5-10 days.
Lockable Tables
Lockable tables provide many security benefits. Coworkers can go away for days and leave their valuables locked up, knowing that they'll stay safe and secure. They can also remove the legs and place their lockable table on another floor or even in a different building.
When opened, the cover forms a soundproof and personal space. There are also three built-in outlets that are hidden to reduce messiness from cables. It even includes space for wires, adapters, and an LED lamp.
IT Desks and Data-Enabled Furniture
The Synergy IT desk is available with or without a data-enabled flip-top. Some of the features of this desk include embedded wireless chargers, and some units have pop-up electrical units.
It also has a touchscreen. Customers can choose from a transparent, wood, or bamboo finish depending on the look they're trying to create.
All-In-One Chairs
These chairs save space while still providing all the features busy entrepreneurs need.
The Betachair's features include a flexible LED lamp that makes it easy for users to see what they're doing. The chair also has an adjustable backrest and storage spaces underneath for different office supplies.
Green Walls
Another idea for people who need more storage space but want to add some greenery to their mobile office is to create a green wall.
Employees create the green wall with boxes. They can be any design, size, or material but they should be small enough so that they're easy to move. The boxes have rollers with stoppers, which fix a box in the correct place.
The box contains low maintenance plants that coworkers can leave alone for a few days. The members can use the concept in any room to create a green space that provides more storage.
The One Idea That's Most Functional and Beneficial
All of these ideas can make co-working spaces look stylish or achieve an agile workspace​ design.
And of these ideas, noise-isolated phone booths can also help increase productivity for workers who use co-working spaces or open offices, but really need a quiet zone.​ They provide a private space which allows workers to concentrate on what they're doing without any distractions.  
Some interesting stats about open office floor plans​ which C-Suite members should note:
Workers who work in open offices take 62% more sick days.
70% of open offices today have no partitions, or their partitions are very low.
25-35% of employees who work in open offices say they're dissatisfied with the amount of noise.
58% of high-performing employees say that they need a quieter work environment. 
54% find their workplace too distracting. That's where phone pods can come in handy. 
Pros of Using Coworking Space Furniture from Zenbooth
Control over environment: Noise-isolated booths allow workers to control the space they work in. They can set the temperature to one that's comfortable for them, and if they work better with music they can play it as loud as they like.
No over-supervision: No one likes constant supervision & Zenbooths give employees an opportunity to work in private, away from the prying eyes of their managers. Studies show that having a manager always looking over your shoulder increases anxiety, which we all know worsens peoples mood and production. 
Private phone conversations: People who call businesses want to know their phone conversations will be kept private. Zenbooths make it difficult for others to hear these phone conversations.
Since the booth is noise-isolated, the person receiving the call will also be able to take it without any distractions or noise around them, keeping their focus on the customer. 
Less sick days: Open office settings make people with health problems more vulnerable to flare-ups. Office phone booths make it far more difficult for these employees to infect others.
Sick employees can work in the booths whenever they feel a cold or flu coming on.
Sensitive information is kept private: Projects that need non-disclosure agreements should be handled very carefully, and discussions about these projects should only be with the team members involved.
This is difficult in open offices because others may be able to hear conversations even if they're being held across the room. 
Moving to a meeting room when only a few team members are involved can be an inconvenience. Soundproof booths block noise and they're small enough that only a few people can use them at a time.
Office phone booths free up space: The compact size of a Zenbooth means that companies don't have to take up time and space having a conference room put in when only a few people need to use it.
Add These Coworking Space Furniture Ideas to Your Workplace
These are a few ideas entrepreneurs can use to add style and functionality to their co-working spaces. To add an office phone booth to your location, get in touch with our sales team here.